G-Lock Bulk Emailer – Software for Sending Your Own Newsletters


G-Lock Bulk Emailer allows managing email lists (import/export lists), creating email newsletters in HTML and plain-text format and sending mass email newsletter campaigns.
Email marketing software is a must-have tool for any serious online business. It is an excellent way to build relationship with your clients, customers or subscribers by sending personalized email newsletters to each contact in the database. Mass email sender is the most effective and reliable way to do permission-based email marketing and create and send opt-in email newsletters in minutes!
What we are going to tell about is G-Lock EasyMail software for newsletter. This is powerful mailing software for creating and sending email newsletters at your desktop. You can easily manage your in-house mailing lists, create personalized HTML newsletters, and send them to your contact database.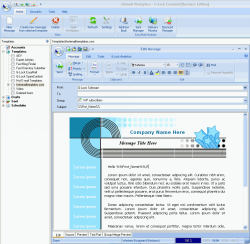 G-Lock EasyMail bulk e-mailer is a complete email marketing solution for email advertising because everything you need is right here:
It cuts down your email marketing costs – you pay for a license only once, no monthly fee required;
It works directly from your desktop and keeps your email list in-house;
It works with your existing ISP mail settings;
It includes a fully-featured HTML editor and mail merge capabilities to create personalized emails;
It supports a built-in database with an unlimited number of groups and common functions to manage email lists: import, export, even edit the recipients' records;
It can connect directly to your contact database and send bulk email taking the email addresses directly from the database without export-import;
It keeps groups, recipients and messages private and secure;
It is integrated with an real-time email tracking service what makes it easy for you to send and track bulk emails;
…and much much more.
Here you can read more about what this powerful bulk mailer can do for you.
We offer 3 editions of G-Lock EasyMail software for newsletter:
Free (sends the message to only 200 recipients, never expires)
Personal ($149, unlimited groups, unlimited contacts)
Business ($349, unlimited groups and contacts, you can send to external ODBC compatible databases and manage bounced emails)
You can read about the limitations in the free edition of G-Lock EasyMail and about the differences between the Personal and Business editions at this page.
While you have a small email list you can use the free version of G-Lock EasyMail in order to get a good feel about how this email marketing software works and how you can benefit from it. As far as you build your opt-in email list, you can upgrade either to the Personal or Business edition which provide you with more powerful email management features and sending capabilities.
Starting an email advertising with G-Lock bulk email sender is quick and easy:
Download a free version of G-Lock Newsletter Program
Install it onto your desktop and activate (fill in the fields in the nag screen and the key will be sent you via email)
Fill in the account settings you will be sending emails from
Import contacts into a group in the address book
Create or load an email newsletter
…and click Send.
Here you can read a complete tutorial how to start sending bulk emails with g-lock bulk mailer.
So, what are you waiting for? Download this email marketing software for free and try it yourself…
---