How to Bypass Email Sending Restrictions Using G-Lock EasyMail
In this article I will tell you about a particular G-Lock EasyMail feature that is often overlooked but may help you avoid email delivery issues arising from a specific SMTP server configuration.
What I mean is the capability to stop and resume email delivery without the user's participation. In truth, this is a simple yet effective way to bypass restrictions imposed by an SMTP server to control automated spam emails.
The SMTP server of your ISP or your hosting company may limit the quantity of email messages you can send per hour or two or three hours and may change the allowed number of emails or the time interval from time to time depending on the server load and other factors.
For example, if the SMTP server you're sending emails through does allow sending only 100 emails per hour and your contact list contains 500 subscribers, the program will send the message to the first 100 contacts and stop. You'll need to wait one hour and resume the process to send another 100 emails and so on. In other words, you'll need to watch over the sending process and resume delivery 5 times. If this is what you're doing, forget about it from now and on.
Do you know that you can automate the whole process of the delivery stop/resume with just a single option in G-Lock EasyMail?
This is how you can use this golden feature:
Open G-Lock EasyMail
Create your email and click Send
On the Send Message screen select the sending mode and check the "Periodically sleep while sending for xx sec. after processing xx messages" option
Type the time interval in seconds, for example, 3600 sec (1 hour), and the number of emails you are allowed to send each hour
Click OK to send the email.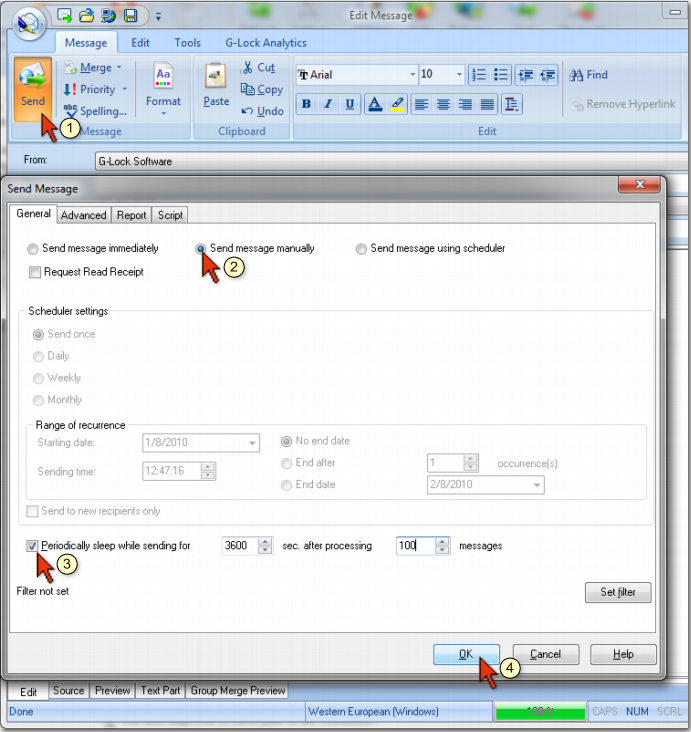 You can minimize the Delivery Monitor module to the system tray and get to other work. G-Lock EasyMail will automatically stop and resume delivery each hour until the message is sent to the whole list.
So, if you experience any email delivery issues caused by the SMTP server restrictions, download a free version of G-Lock EasyMail now if you don't have it yet and try yourself how this cool feature works.
---