Feedback Loops: Get Notified about Spam Complaints Timely


If you are doing email marketing, spam complaints are a part of your life. You may send relevant email newsletters, provide clear unsubscribe instructions and follow email frequency you promised during your signup process but some day one or more subscribers are likely to hit the "Report Spam" button and send a complaint against you.
They may forget they subscribed to your list, or think you sent irrelevant content, or consider that you email them too often — whatever the reason is, the recipients see the "This is spam" button as a quick way to unsubscribe from your emails even if you provide an unsubscribe link inside the message.

Spam complaints have a negative impact on your sender reputation. And if you get a lot of complaints, your email deliverability is suffering — your messages end up in the Junk or Spam folders automatically. With that said, in email marketing it's crucial that you address spam complaints as they come.
How do you know that someone reported your email as spam? Here's where feedback loops are very helpful. If you use this service, you receive a notification from an ISP about the recipient who flagged your message as spam and which message was flagged as spam. Feedback loops are offered by all major ISPs.
Each ISP manages its own feedback loops service so you need to signup for feedback loops with each ISP separately. To save time, you can identify which domains (aol.com, hotmail.com, yahoo.com etc.) predominate in your list and start with signing up for feedback loops with these ISPs first.
You can use a search engine to find the information about how to signup for ISP feedback loops. For example, here you will find the list of ISP feedback loops.
To apply for feedback loops, you need to prove that you are sending the emails from your own domain, or have relationship with the domain owner [if the ESP is signing up for feedback loops] and that you have your sender authentication records setup in DNS. You also need to provide the IP addresses you send the emails from. In addition, you need to setup a dedicated email address to which the ISPs will send feedback loops notifications. Generally companies use the abuse@domain.com email address to get such alerts.
After you provide all necessary information, the ISP will check that you don't have a bad email reputation. If everything is OK, you should be accepted as a feedback loops client.
Note that ISPs won't provide you with the email address of the recipient who sent a spam complaint upon your message. They will send you your original message as an attachment and you will need to discern the recipient's email address in the message code yourself. Yahoo and Hotmail keep the original recipient's email address in the message header so you will easily find it in the OriginalRecipient: or the To: field. So, the Bounced Manager module in G-Lock EasyMail Business edition can extract the recipient's email from feedback loops messages from Yahoo and Hotmail. So, you can use the Bounced Manager to process spam complaints together with your returned messages.
Here is an example of a feedback loop message from Hotmail: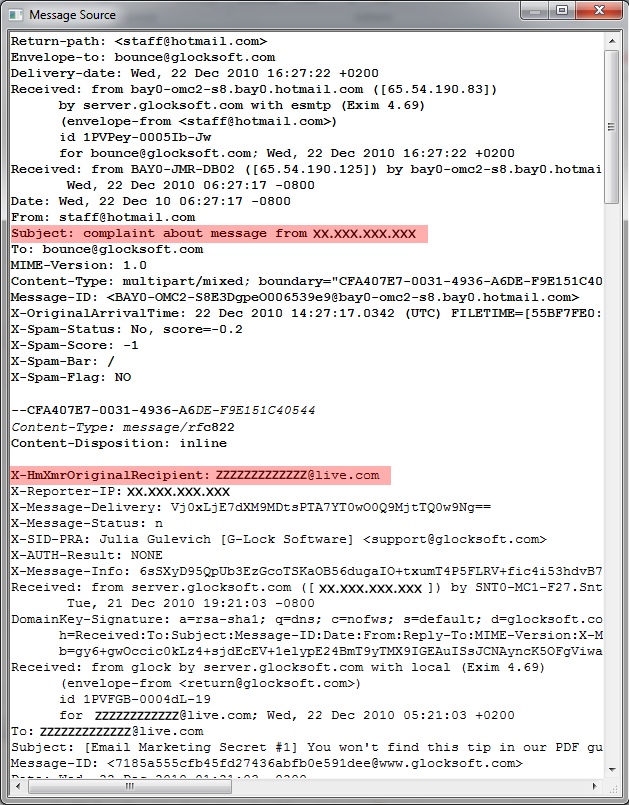 The situation is different with AOL. AOL cuts the recipient's email address from the message header. You'll see "OriginalRecipient: " or "To: " in the header. In order you can identify the recipient who sent a spam complaint in AOL feedback loops messages, I recommend that you include the subscriber's email somewhere in the email body. For example, in your Email Admin Center you can write "You are receiving this email because you are subscribed to our newsletters with this email address [email_address]. If you want to change your email or unsubscribe, please, click here". Your email marketing program must support the mail merge feature and replace the variable with the recipient's email address during the message sending. This way you will know where to look for the person's email address if it's not present in the header.
Once a spam complaint is sent and you are notified, you don't have other choice than immediately remove the recipient from your list and stop sending emails to him. Even if your list is opt-in and your email is CAN-SPAM compliant, you can't object. You must exclude the recipient from the list.
If you are not signed up for ISP feedback loops yet, it's the time to do it now. They will help you identify which types of email messages generate spam complaints and work on the ways to minimize your spam complaint rate for future campaigns. It's like taking proactive measures to protect your sender reputation and increase email deliverability.
---