How to Manage Email Lists in Address Book
The Address Book provides a convenient place to store contact information. With G-Lock EasyMail Address Book, you have a place to store email addresses, home and work addresses, phone and fax numbers, digital IDs, conferencing information, instant messaging addresses, and personal information such as birthdays or anniversaries.
You can create groups of contacts to make it easy to send email to a set of people, such as business associates, relatives, or friends. Any time you want to send email to everyone in the group, just use the group name instead of entering each contact individually. Creating groups is also a good way to organize a large Address Book. 
Load Large Email Lists in Seconds 
With the Load option in G-Lock EasyMail Address Book you can have the email lists containing a great number of email addresses imported into the address book in seconds.
If your mailing list contains the email addresses together with other contact information, you can use the Import Wizard. The Import Wizard allows you import your mailing list from Paradox, DBase, Text, HTML, MS Excel, MS Word, Lotus 1-2-3, QuattroPro, XML, MS Access Database, ADO connection, DBISAM table, and Clarion table files. There is also the Export Wizard for exporting contact information to the files of different formats. 
Connect Directly to the Database without Export-Import
If you maintain contact information in the database, you can connect to the database directly from G-Lock EasyMail address book without import-export of email addresses. G-Lock EasyMail can work with any ODBC compliant database. Another advantage of this feature is that the contact information in G-Lock EasyMail Address Book is always up-to-date. If you update your database, the changes are automatically reflected in the Address Book when you open the program.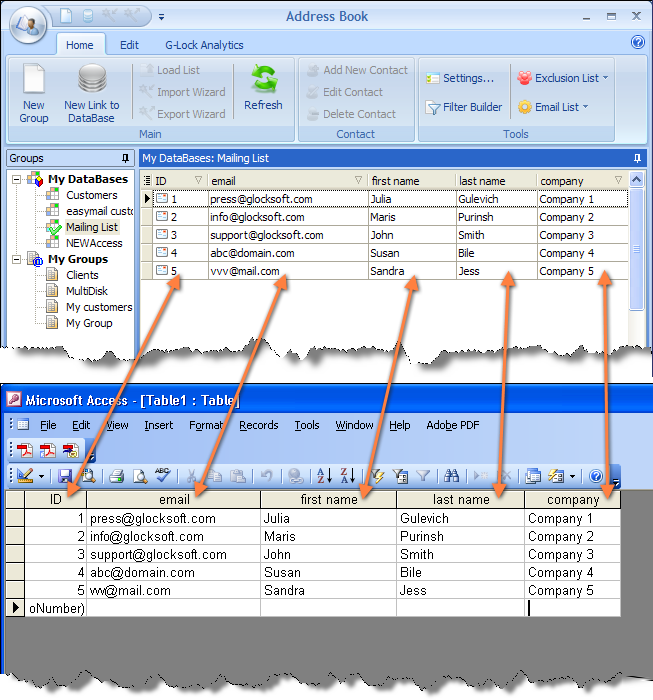 Keep Unique Exclusion Lists for Groups and Global Exclusion List 
G-Lock EasyMail Address Book provides you with the Exclusion Lists for each group and database link. You can add to the Exclusion List the email addresses you don't want to send the message to. You can have unique Exclusion Lists for each group and database link.
Plus, you will find a global master Exclusion List here. A master Exclusion List works for all the groups and database links in the Address Book. Here you can add the masks to exclude some email/domain addresses from the email campaign or from loading them into the program. A mask can contain a whole string as well as wildcards. Wildcards are asterisks (*) or question marks (?). An asterisk matches any number of characters. A question mark matches a single arbitrary character.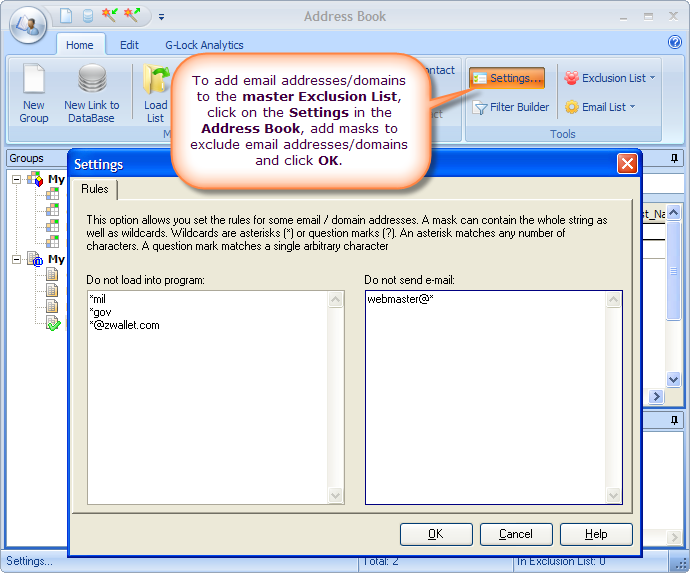 Sort and Filter Emails 
G-Lock EasyMail Address Book provides you with many fields for storing the recipient's information. For your convenience you can hide any fields from the screen and show them again at any time. You can change the order of the fields if you want. You can sort the records by any field in the ascending and descending order if you click on the field heading.
There is a quick search of an email address capability for internal groups. With the powerful Filter Builder feature of G-Lock EasyMail Address Book you can filter the records by any field or by multiple fields at a time. For your convenience you can move the filtered data to another group in the Address book.
If you have a large mailing list containing hundreds or thousands emails, you'll find a range of useful buttons in the Address Book to manage it. With those buttons you can easily find first/last or next/prior record, switch to the first/last or next/prior page, save bookmark.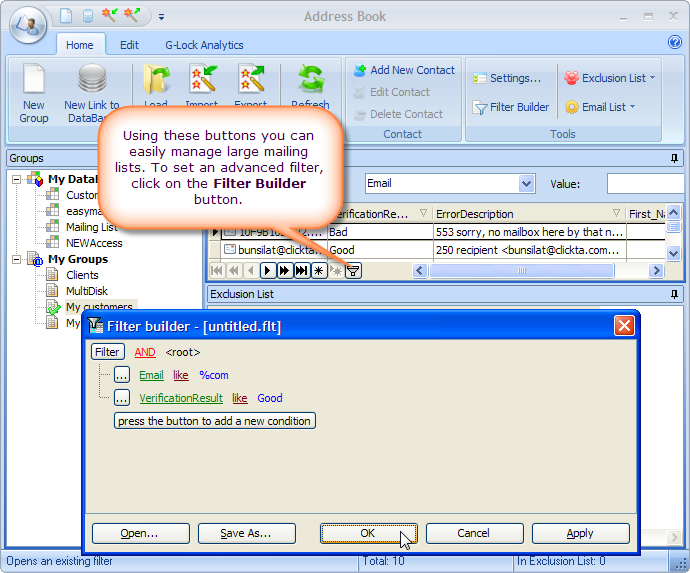 Merge and Purge Email Addresses 
In G-Lock EasyMail Address Book you can manage your mailing lists as you want: copy selected contacts or all contacts from one group to another, move the contacts from one group to another group, delete the contacts stored in one group from another group (remove the duplicates), filter the group and move the contacts that satisfy the filter criteria to a new group.
There is also a capability to remove the emails stored in a file from the selected group on all the groups. This nice feature allows you delete bounced and opt-out email addresses from the Address Book with a mouse click.